WE ARE OPEN ONLINE!
Non-essential shipping: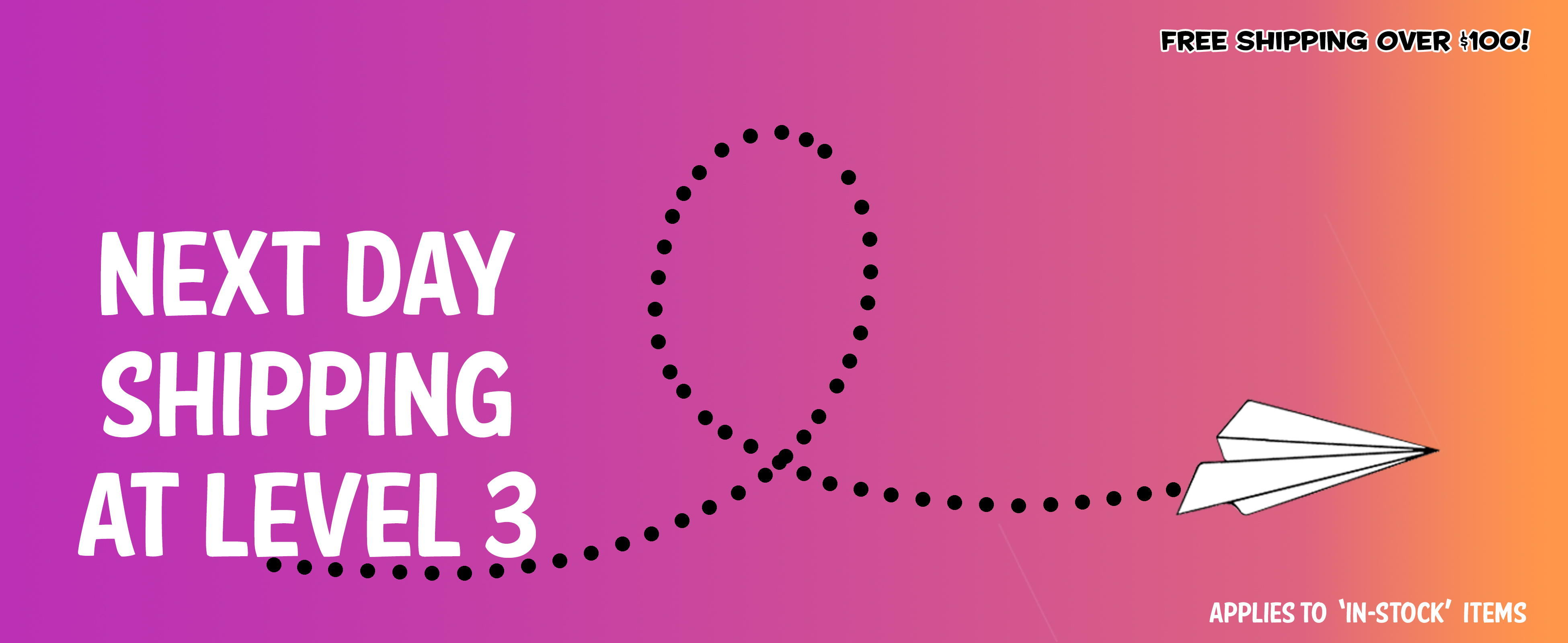 We will endeavour to have your 'in-stock' items shipped the very next day after Level 4 is lifted. Please be reasonable and patient while we work hard to dispatch your orders.

We have a very diligent team, and highest standards of hygiene will continue to be applied. Masks and gloves and 2metre distancing will still be employed when dispatching items. Our courier picks up items from a separate area, and they do not need to have contact with our staff. Our dispatch area is removed from the main store as well so there is plenty of isolation.

In-stock items say "In-stock at Real groovy". Each item has an estimated shipping time depending on if it is in-stock or if you have purchased something that we need to order in for you. This info is found on the item's detail page.
If you are buying a combination of 'in-stock' and items 'sourced from' elsewhere; for a small fee you can have your in-stock items sent immediately.
Choose 'split shipping' in cart to split your shipment into two.

PLEASE NOTE: YOU MAY RECEIVE AN AUTOMATED EMAIL THAT SAYS YOUR NON-ESSENTIALS ORDER IS SHIPPED, WITH A TRACKING NUMBER.
THE TRACKING NUMBER IS NOT ACTIVATED.
THIS IS BECAUSE YOUR ITEMS ARE EMBARGOED UNTIL LEVEL 3.
ONCE THEY ARE ACTIVATED BY THE COURIER, YOU WILL BE ABLE TO TRACK YOUR PARCEL. (LEVEL 3)
If you are ordering from outside of NZ, International orders will be dispatched once all items are ready to ship.


From time to time, suppliers are unable to fulfill your order immediately and items are placed on back-order . If it appears that your order will not be dispatched on time, you will be informed as soon as possible. You will be offered the opportunity to cancel your order at that time, otherwise you order will be dispatched as soon as the items are available.
Keep an eye on our social media for updates:

newsletter (bottom right of page to subscribe)
ONLINE SHIPPING FOR ESSENTIAL CATEGORIES:
Only items from these categories will be shipped during level 4:
Clothing
Masks and Hygiene
Kids Books
Stress Management
Exercise
Food
Stationery
Cleaning products
From the Manager:
I want to personally apologise for not updating our messaging about shipping. I made two mistakes:

In a rush to add information to an already-scheduled email, I neglected to put 'essentials' in our first email in lockdown. This may have given you the wrong impression that we would ship any in-stock items, I am sorry for the miscommunication!
I also activated the wrong banner on our website - which was dated February 2021, which said we were in level 3 and had a contactless window operating, and the wrong shipping information. As soon as I was alerted to this, I activated the correct one.

WHAT A DUR-BRAIN! I am really sorry for the crushed-expectations, and for freaking you out. - Sarah.

WHEN WE GET TO LEVEL 3:
IF YOU NEED IT QUICKLY CHOOSE 'PICK UP' WHEN YOU ORDER ONLINE FOR CONTACT-LESS DELIVERY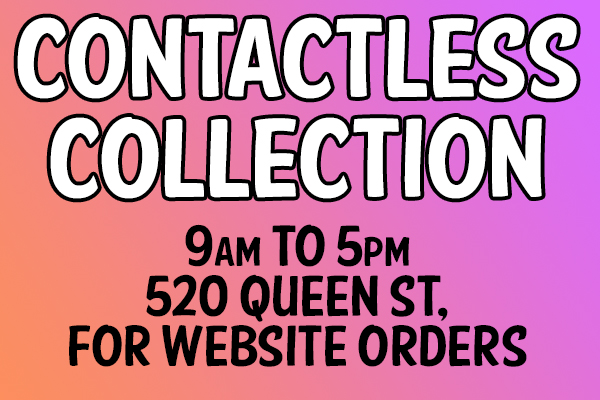 HOW IT WILL WORK:
Pick ups will happen from our Front door at 520 Queen Street
This is for items that have already been paid for and you have received notification that they are ready to pick up. (please don't just turn up without checking your emails first)
Our staff will place your item on a desk and stand back to allow you to pick up.
Gloves will be worn by staff at all times.
We will miss you guys and look forward to the many hi-fives once we're all safe. Take care out there