Debut Carbon EVO
Time for Evolution. Project have taken their most popular turntable design and improved every aspect of it. The result is an incredibly refined product.
Refined in every aspect:

Suspension- Improved motor suspension
The Debut Carbon EVO features our new designed motor suspension. We have improved the old design to consistently reduce the vibrations better than before.
Metal Feet - Damped & height adjustable
The new Debut Carbon Evo stands on three height adjustable damped aluminium feet to guarantee the perfect stand.
1,7 kg Platter - Heavy steel and TPE damped
We added a TPE (thermoplastic elastomer) ring on the inside of the platter. The result is an even quieter and noiseless operation with less wow and flutter.
33/45 RPM - High precision motor control
The rocker switch on the bottom of the turntable allows you to change speeds with the push of only a single button.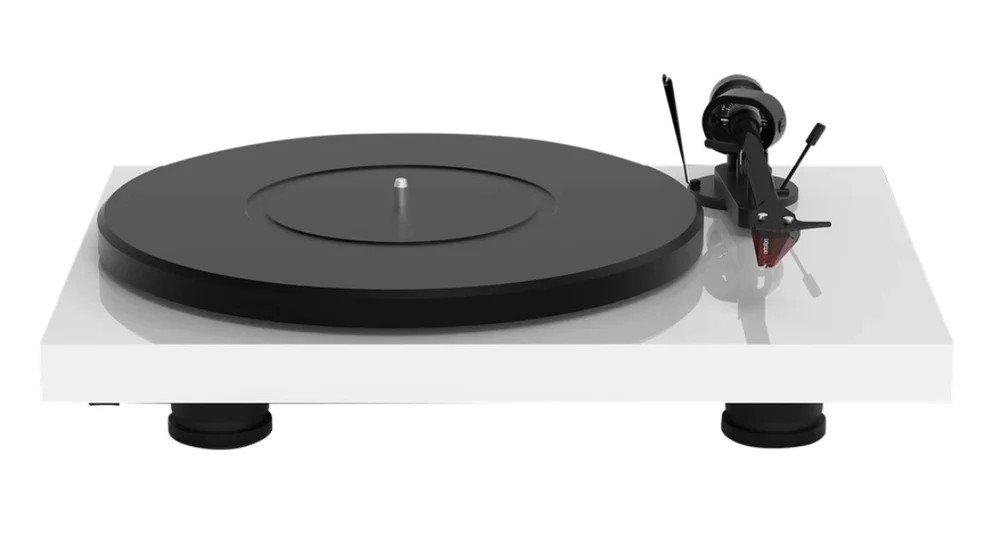 The Evolution
The Debut Carbon EVO focuses on the core aspects that make a turntable sound great. Technically correct design - expert craftsmanship - handmade in the EU. This turntable is built to last you a lifetime!
CLEAN LOOK & NEW COLOURS
You wont find any button, switch or printing on the plinth to ensure the luxurious aesthetics. The speed control switch has been moved to the bottom of the plinth, to keep the clean look the Debut is known for.
The Debut Carbon EVO is not only timeless by offering traditional high-gloss black, white and red finishes or our fabled real-wood walnut veneer. Completely new, unique and trend-setting are the beautifully realized satin signature finishes in 5 different variations.
From the record to your amplifier:

Ortofon 2M Red - Moving-Magnet Cartridge
2M Red is an all-purpose cartridge that delivers open, dynamic sound with a slight touch of warmth.
The Tonearm - 8,6 inch carbon fibre
The new Debut Carbon EVO features the proven 8,6'' one piece Carbon tonearm design. The super stiff, but lightweight tonearm delivers an insane sound quality with a convincing sound stage.
Output - Gold plated sockets
You can always change your RCA output cable and upgrade it with your preffered one. The gold plated connectors will always provide the best connection.
Phono Cable - Semi-balanced RCA cable
To guarantee a perfect connection to your amp you will find a high-quality phono RCA cable in the box. Our Connect it E is a semi-balanced, low-capacitance cable, with superior shielding.
Nine high quality finishes: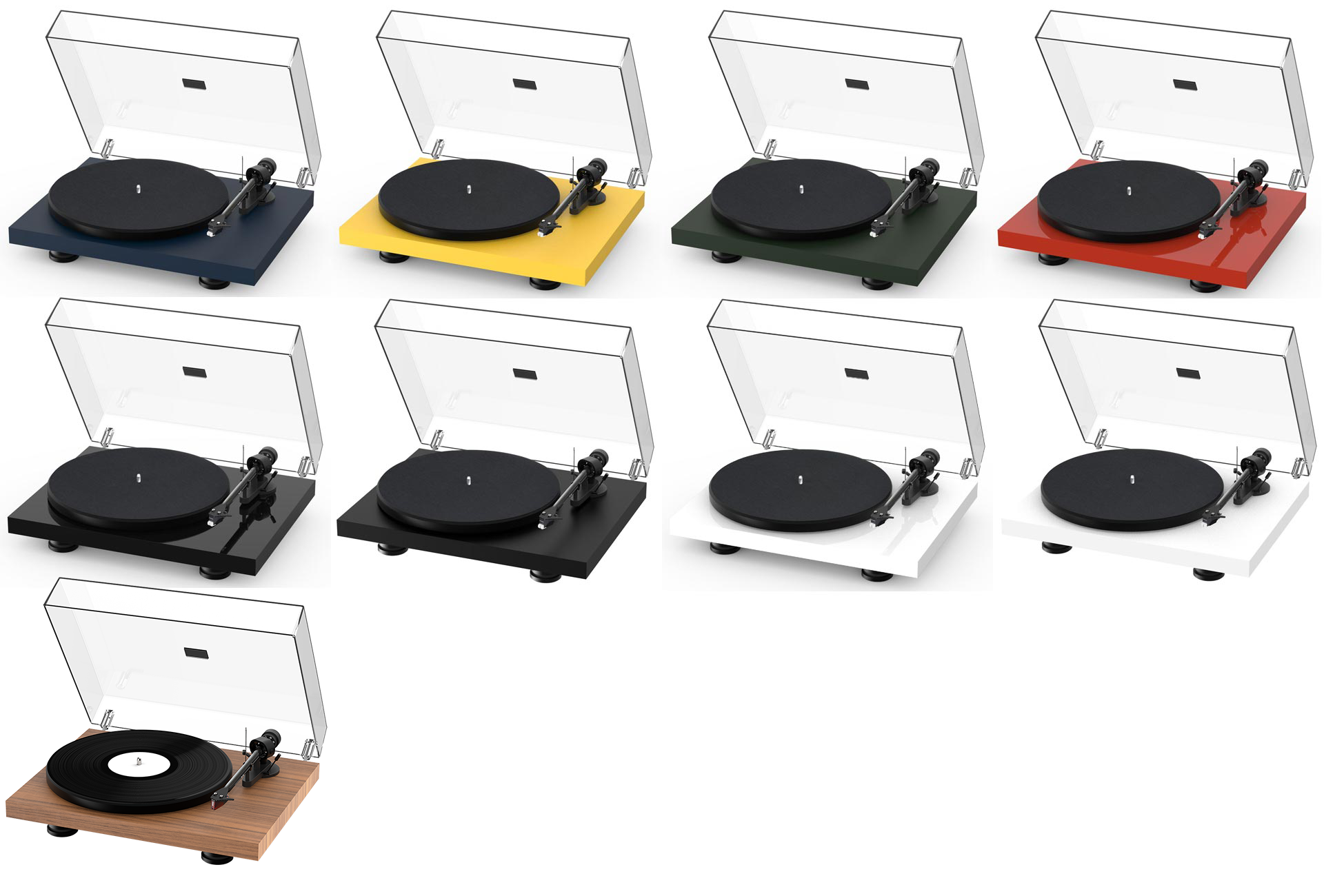 KEY SPECIFICATIONS
Speed: 33, 45/(78) (electronic speed change)
Drive principle: belt drive with electronic speed control
Platter: 300mm, 1.7kg heavy steel platter with TPE damping and felt mat
Platter bearing: high precision stainless steel axle in bronze bushing
Wow & flutter: 33: +/-0,17%; 45: +/-0,15%
Speed drift: 33: +/-0,5%; 45: +/-0,6%
Signal to noise: 68dB
Tonearm: 8,6" one-piece carbon tonearm
Effective arm length/mass: 218,5 mm/6,0 g
Overhang: 18,5mm
Included accessories: 15V DC / 0,8A power supply, dust cover, 78 RPM round belt, 7'' single adapter
Power consumption: 4W / 0W standby
Dimensions: 415 x 113 x 320mm (WxHxD)
Weight: 6 kg net